×
---
eGeeTouch Smart TSA Travel Lock - Secure & Track your Luggage anywhere you go... (YELLOW)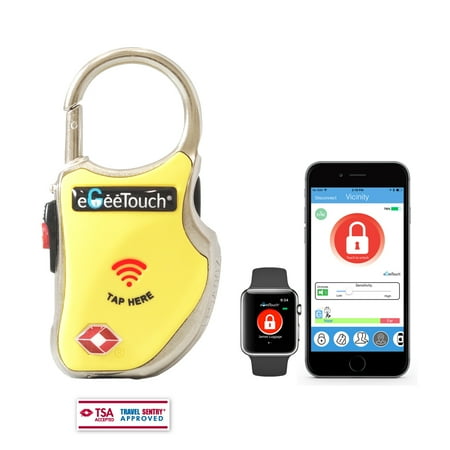 1. eGeeTouch SMART TRAVEL LOCK just got its App & battery performance upgraded. Travel with Hassle-Free needing NO KEY, NO CODE to remember & NO TINY 3-DIGIT DIALS to fiddle. Smarter experience than any old-fashioned locks.
2. PROXIMITY TRACKING: notifies you when luggage is getting far from you so you will never leave your bags behind, stolen or mis-carried. A smarter gift to travel with…
3.HIGHLY SECURED & PEACE-of-MIND: millions of user set encrypted IDs, securing your valuables from thieves in flight cabin, at airport and in hotel room. Tens of thousands smartlocks delivered worldwide in just few months
4. TSA ACCEPTED: ensuring your luggage lock NOT damaged during inspection
5. MULTIPLE ways of unlocking: smartphones (iOS 8.0 and Android 4.4, & above), NFC Fob (includes a coin-size waterproof fob), Apple WATCH & Samsung Gear S2/3. BATTERY life just got boosted to 4,000 lock/unlock cycles, translates into over 2 YEARS of use regardless you are frequent travelers or seasonal holiday makers. Charging: None.