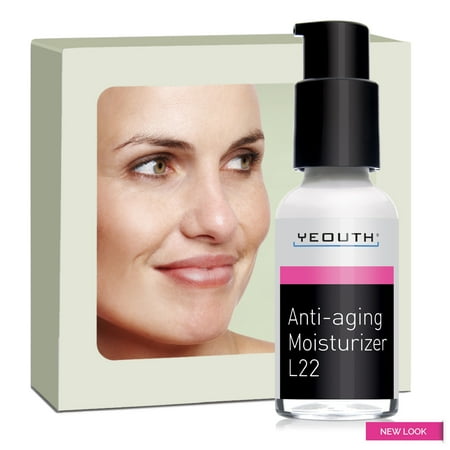 PATENTED, PROVEN, FACIAL MOISTURIZING CREAM FOR DEEP, MULTI LEVEL SKIN HYDRATION
Perfect addition to any anti-aging skin care regimen
-In double-blind clinical studies, participants who used YEOUTH L22 anti aging moisturizer demonstrated superiority to other products when evaluated for skin hydration and repair.
-In the same clinical trial, Yeoth L22 face cream and eye cream also demonstrated significant improvements in both aged and sun-damaged skin, when compared to competitors, with regard to skin hydration, firmness, and elasticity.
-L22 face moisturizer is professionally formulated to work synergistically with YEOUTH Anti-Aging products.
-YEOUTH L22 is a wrinkle cream, night cream, skin tightening cream and moisturizer for dry skin and oily skin in one!
POWERFUL, NATURAL INGREDIENTS
- Jojoba Oil (wax esters) are charged WITH Macadamia Oil (triglycerides) to form new wax esters and triglycerides which have been clinically proven to improve skin look and feel.
- Olive-Oil sourced Squalene, Plant Sterols, and Sterol Esters are then combined to give your skin the healthy lipid composition it is craving.
Lock in deep, long lasting facial hydration with YEOUTH L22 - the perfect moisturizing addition to any anti-aging regimen. It's 100% guaranteed, so you have nothing to lose. Order now.
PROUDLY MADE IN THE USA