NaLuck Women's Boho Hippie Elephant Jumpsuit Rayon Smocked Waist Yoga Baggy Harem Pants PJ18-Black#14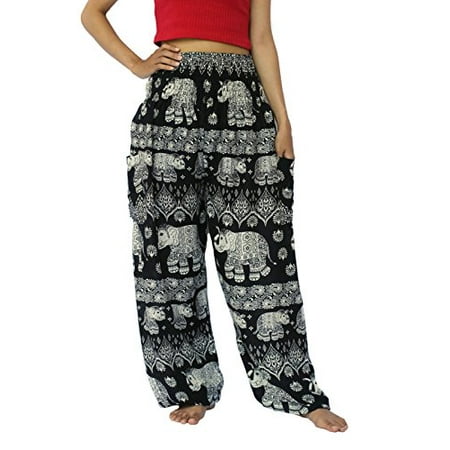 Women&a Harem Pants/ Hippie Aladdin Harem Pants. For Women/ Cheap Harem Pants For Yoga and Belly Dancing, Jogging, Relaxation,
Work Outs/ Extremely Comfortable Women Pajamas/ Sassy Fitness Pants/ Suitable For Girls Teens Ladies Of Any Age/ Beautiful And Durable.
If you have not tried out the latest boho hippie trend check out our beautiful and harem pants
available in a wide range of colors and prints to suit your personality.
Try out one of these ultra comfortable stylish pants in your next yoga class, work out session, night out.
Originating in Thailand.
Women trousers wherever you go starting from your yoga or jogging sessions in the morning to bed at night.
Grab one of these Bohemian trousers and be the first in your neighborhood to own a pair of these fabulous harem trousers
with an Indian Thai Buddhist print.
Make this your outfit when you are going on a picnic with friends or going out for dinner.
Wear these indoor pants during your household chores or as comfortable pajamas.
Measurements
- Regular Size to fit all US 0-12-Sizing XS-L
The Pants size Waist 22" ( 55 cm )
Stretching to 42" (elastic material) ( 106 cm )
Hip 30"- 46" ( 76-116 cm )
Length 40" ( 100 cm ) Inseam from crotch to the the end of the pants is 27" ( 68 cm )
-Plus Size to fit all US 14-20 -Sizing L-XL
(Approximately) Size : (inches) Waist stretching to 44-48" (elastic material)
Length 42" or 100 cm
Inseam from crotch to the the end of the pants is 27" or 68 cm
Washing Instruction:
Machine wash in cold water on a gentle cycle or hand wash cool, hang dry is best.