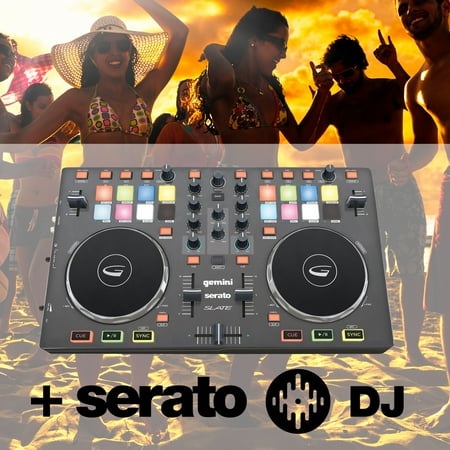 Exclusive Walmart DJ Bundle - All you need to get started as a Pro DJ
Package includes DJ Controller, DJ software license, and 30 days of free music
WALMART SLATE SERATO PRO DJ BUNDLE
Get your DJ Career started with this EXCLUSIVE DJ rig. Package includes a DJ Controller, Serato Pro DJ software and Music from Promo Only. Just add your computer and you will be ready to do a party.
Great for DJs of any skill-level, this bundle is perfect for a beginner or pro.It's powered by Serato DJ, the award winning, industry standard, digital DJing software used by professionals around the world.
The Hardware:
The Gemini Slate 2
2-channel mixer with 3-band EQ, and dedicated Filter control on each channel
8 performance pads to trigger cue-points, loops and samples
USB/MIDI software controller with built-in professional 24-bit PC/MAC audio interface
Microphone input
Midi-mappable
Powerful yet light and portable party starter
The Software:
Serato DJ - The number one pro DJ software in the world
This bundle will give you a full license for Serato DJ, able to be used with any compatible hardware.
Sync beats, add effects, filter, set cue-points, trigger loops and samples like a pro.
Analyze files for beat and key information.
Responsive, intuitive controls any DJ instantly feel at home
Powerful extendable feature-sets that are able to be added to as needed, such as Serato Video (mix video like tracks), iZotope FX, industry standard Keylock Pitch 'N Time DJ, make custom edits with Flip, and connect turntables (hardware dependent) with DVS.
Cross-platform support (Mac & Windows: system requirements https://serato.com/dj/downloads).
The Music:
30 days of POOL Audio Gold from Promo Only Professional DJ music service.
POOL delivers the newest music and music video releases directly to your PC or Mac daily via a custom desktop app. Download; organize; search by artist, title, or BPM; create and export playlists; edit your ID3 tags; and more - POOL makes it easy (and affordable, too).
Multiple daily releases, on the same schedule as radio stations
Your choice of DRM-free 320 kbps MP3, full CD-quality audio (M4A)
Content delivered directly to your hard drive via free download manager
Full previews of all content prior to download
One-click batch downloads of releases
Support for both Mac and PC
Plans start as low as $12 a month after free trial
POOL Audio Gold
Designed to meet the needs of special event and mainstream club DJs. Includes EDM, House, Pop, Hip-Hop, Dance, Country, Rock, Latin, Caribbean, Christian & more w/Intro Edits, Quick Edits, Explicits, Instrumentals, Acapellas, Extended Club/House tracks and limited-release mixes & remixes
Gemini Slate 2 Package: Over $429 Value
Free Music-Link Below.
Music valid through 12/13/2017. View and print Music form here.