Garmin 010-01338-05 Fenix[r] 3 Training Watch [silver]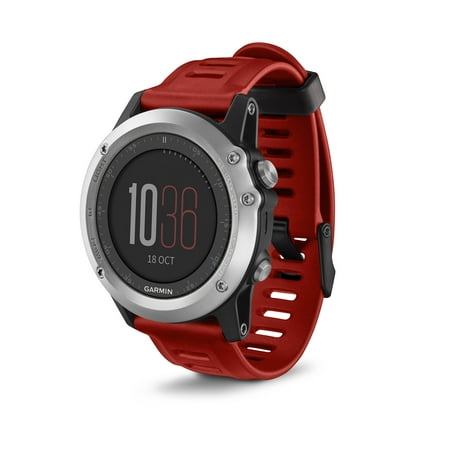 True Performance Meets True Style
Stainless steel EXO antenna with GPS + GLONASS support for fast fix and accuracy
1.2-inch sunlight readable color Chroma display
Fitness training features like VO2 max and recovery advisor (when used with a heart rate monitor)
Outdoor navigation features like 3-axis compass, altimeter and barometer, TracBack and Sightn Go
Connect IQ compatibility for customized apps, widgets, watch faces and data fields
fenix 3 is the rugged, capable and smart multisport training GPS watch. With feature sets for fitness training plus feature sets for outdoor navigation, fenix 3 is ready for any training activity and competition. Access to the Connect IQ platform allows customization of watch faces, data fields, widgets and activities. And, fenix 3 is a thin, light multisport training GPS that won't slow you down whether for training or every day use.
Serious Style That Stands Up to the Roughest Conditions
fenix 3 is available in 3 bold models: gray with high-strength, scratch resistant, crystal and black band; silver with red band; and the premium sapphire model with a stainless steel band and sapphire lens. Each watch features a protective stainless steel bezel and buttons, and reinforced housing for extra durability. A sunlight-visible high-resolution color Chroma display with LED backlight lets you access your data in any light. fenix 3 is water-rated to 100 meters and has a battery life of up to 50 hours in UltraTrac mode, 16 hours in GPS mode and up to 3 months in watch mode (all depending on settings).
Advanced Fitness Metrics
fenix 3 is packed with training features to tell you about your form and fitness. The first is the VO2 max estimator. When used with a heart rate monitor, fenix 3 crunches data, including your running speed, beats per minute and heart rate variability to estimate the maximum volume of oxygen you can consume per minute. Track changes to your VO2 max to see your fitness gains and to compare with your peers. Other fitness metrics include recovery advisor with a recovery timer and recovery check, plus a race predictor, which estimates your ideal finish time based on your current VO2 max number.
Running Dynamics Features
fenix 3 incorporates sophisticated Garmin running watch feedback on your running form by reporting multiple metrics. When used with the HRM-Run monitor, fenix 3 reports your cadence, vertical oscillation and ground contact time. These metrics are called running dynamics, and they affect your running economy.
Swim Profile and Ski-board mode
fenix 3 isn't just for running; special feature sets help swim training and skiing too. Borrowing from the Garmin Swim, fenix 3 tracks your distance, pace, stroke count and more. You just tell fenix 3 the size of the pool you're swimming in and begin your workout. Ski-board mode puts speed, distance, vertical drop and an automatic run counter (with Auto Pause for the lift line) and more at your fingertips. You can even use your fenix 3 as a glove-friendly remote, via ANT+, ...