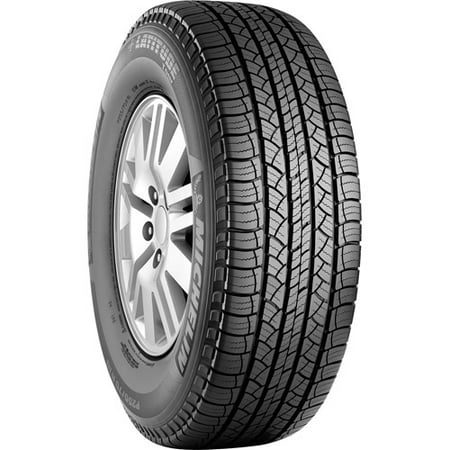 You can drive with confidence when you have the Michelin Latitude Tour Tire P225 65R17. Even though the streets and highways may be rough, your ride will be smooth. Tires are an important investment, so you want to consider performance and value when making your selection. Michelin is a well-known name in tires. This Michelin Latitude tire features a wide groove tread design, which provides remarkably long wear, giving you durable performance for years to come. You can expect a tread life of 65,000 miles with this tire. The tread pattern also provides good handling and control under dry, wet or snowy weather conditions. This automobile tire saves in another way by helping to reduce fuel consumption, making it a consumer-friendly product. Your vehicle will attain appreciable mileage with this fuel-efficient tire under normal driving conditions. The load index for this Michelin Latitude Tour Tire P225 65R17 is 100, which converts to a load of 1764 lbs.
This tire offers improved traction while minimizing road vibration, adding to the comfort of both driver and passengers. When you consider safety, longevity, fuel efficiency, handling, control and less vibration, you will find that this Michelin Latitude tire is a good choice for your vehicle.

Michelin Latitude Tour Automobile Tire P225/65R17:
Tread pattern for longevity
Michelin Latitude Tour Tire P225 65R17 has a new compound design for better mileage
Improved traction with reduced road vibration provide a comfortable ride
Automobile tire with wide groove tread design takes on the roughest roads
Tire installation from $12 per tire. Click here for more info.
---
Treadwear Warranty: 65,000 miles
Tire Type: Passenger-Touring
Sidewall: Black Sidewall
Speed Rating: T
Load Index: 100
Speed Rating Translation: 118 mph
Load Index Translation: 1764 lbs