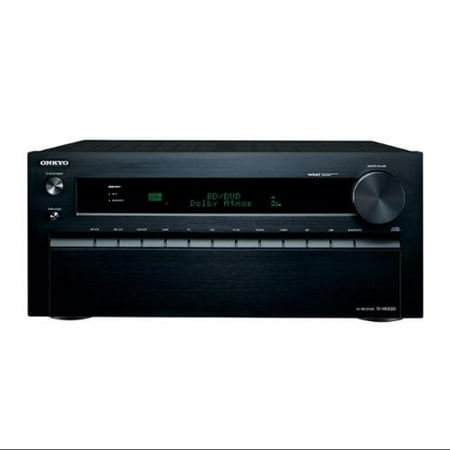 Onkyo TX-NR3030 11.2 Bluetooth AV Receiver w/ Dolby Atmos (Open Box)
With 11.2-channels of Onkyo power and the world's most advanced A/V processing, the TX-NR3030 serves up revolutionary Dolby Atmos®surround-sound complete with liquid 4K video at 60 frames per second. Add in-ceiling speakers to augment a 5.2, 7.2, or 9.2 surround setup to unlock the full potential of this game-changing format, which creates a plane of sound over the listener's head. As well as more accurately locating surround effects mixed for discrete channels, Dolby Atmos moves the sound around your theater more realistically to place you in the center of the action. Connectivity extends from HDCP 2.2-ready HDMI® through to balanced XLR pre-outs, while onboard Wi-Fi® supplies your home theater with hi-res music via NAS/PC and limitless streaming from your smartphone. Onkyo has engineered the TX-NR3030 from faceplate to speaker posts for audiophile performance, with three transformers, separate amp and processing blocks, and seven top-of-the-line 32-bit Burr- Brown D/A converters.Whether used as a hub for housewide HD audio and video, or as the heart of a Dolby Atmos-powered home theater, the TX-NR3030 rewards with an emotionally uplifting performance every time.
Feel Every Dimension in Dolby Atmos™
Enter a new world of sound with Dolby Atmos®. It transports you from an ordinary moment into an extraordinary experience with captivating, multidimensional sound that fills your room with amazing richness and depth. Music, people, and objects come alive in breathtaking detail and flow in precise choreography all around you, making you feel like you are truly there. This Onkyo receiver features Dual 32-bit DSP engines to decode and scale Dolby Atmos to your home theater layout. With the TX-NR3030's 11 channels of high-current amplification, you can unlock the full experience with in-ceiling height channels or Dolby Atmos-enabled speakers to augment a standard surround sound home theater setup for stunningly detailed sound that comes alive from all directions, including overhead. Additionally, a new Dolby surround upmixer allows for legacy channel-based content that has not been mixed for Dolby Atmos to be expanded to fill the flexible speaker layouts of a Dolby Atmos system.
Onkyo Sound is Emotion. Delivered.
Drivers don't judge sports cars on top speed alone. Acceleration, cornering, and braking are equally important. It's the same with A/V receivers-wattage is only an indication of loudness, not sound quality.The real test is current. High instantaneous current enhances speaker control for accurate and musical audio reproduction. It's the cornerstone of our amplification philosophy-no other brand can match Onkyo for dynamic driving power.We don't just translate signals into sound.We create sound you can feel.
Engineered for Pure Exhilaration
Best-in-class high-current capability is achieved with Wide Range Amplifier Technology (WRAT). At its core are a custom high-output transformer, customized 18,000 ?F capacitors, and low- impedance copper bus-plates with separate processing and amplification blocks. Seven two-channel 192 kHz/24-bit TI Burr-Brown DACs and two 32-bit DSP engines handle audio processing with Three-Stage Inverted Darlington Circuitry amplification and discrete low-impedance output transistors delivering instantaneous power. The pinnacle of over 65 year's audio engineering experience, WRAT preserves the vitality of the master recording.