×
---
Mares Cruise Backpack Pro Scuba Roller Dive Gear Bag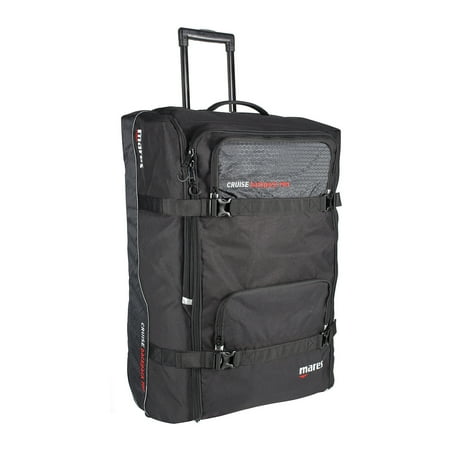 Mares Cruise Backpack Pro is a very large dive bag that incorporates a whole range of useful features and a modern design. The bag is fully padded, which adds protection for the equipment inside. Large, sturdy wheels make it a good option for long distance travel. On the front of the bag you will be able to find two compression straps and two pouches - a larger one on the bottom and a smaller one on the top.There are two drain outlets on each side, so even if some access water gets into the bag, it will dry out fast. The telescoping handle can be accessed by opening a small pocket on the top. A nice bonus is a small car bag and a signalling mirror that come included with this product.
The bag itself can be accessed through a big front flap. The inside has got a single spacious compartment with two more compression straps, aiming to keep your gear from moving around. Overall, the construction, heavy duty material and large size make this bag a reliable and versatile option.
Mares Cruise Backpack Pro key features are:
Large, robust wheels;
Telescoping handle;
2 front pockets;
Padded shoulder straps;
Adjustable external and internal compression straps;
Integrated side fin pockets with a water drainage system.
Beauty case with internal mirror.