SALUS Infusion Water Bottle, Tritan Fruit Infuser for Naturally Flavored Fresh Drinking Water, Fashion Style Multi-Purpose Flip-top BPA-FREE, 24 Oz, Blue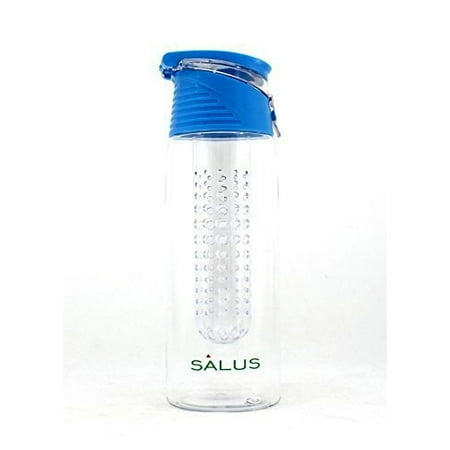 •By SalusWare: Gives you the best options for outdoor water needs!
SALUS Tritan Fruit Infusion Water Bottle. The SWEETEST & HEALTHIEST way of drinking water!
Product Specifications:
•Type: Infusion Water Bottle
•Material: BPA FREE PC plastic
•Color: Black, Blue, Red, Yellow, White as Plain. Green, Purple, Yellow with Rhinestone Grip.
•Capacity: 24 Oz (700 ml)
•Removable fruit infuser
•Flip-top
•FDA approved
•Dishwasher safe
•The SWEETEST & HEALTHIEST way of drinking water!
•Home-made & delicious drinks. Add your favorite fruits & flavors like strawberries, limes, melons, oranges, mint leaves etc. to your water or drink.
•NATURALLY FLAVORED FRESH DRINKS! Easy to use, just place your favorite fruits inside of infuser and enjoy lovely flavors while drinking.
•Not only for water, you can enjoy flavoring your beverage, soda, tea, juice, lemonade or anything you want to drink.
•Wide variation of usage: You can use your water bottle after exercising for cooling down, while waking, traveling, for outdoor sports, for long distance driving or just for drinking, refreshing or any need of water or healthy flavored, home-made drinks at work, school or home.
•Makes Everything Simple: Easy to place and remove fruit. Easy to handle and carry, easy to transport, good for traveling, anti-lost lit, smooth and light weight cup, leak proof bottle, fixes most cup holders.
•Fashionable style attractive appearance in different colors.
•Made of BPA FREE 100% environmental healthy plastic.
•Adding boiling water is not recommended.
•100% Satisfaction Guaranteed.