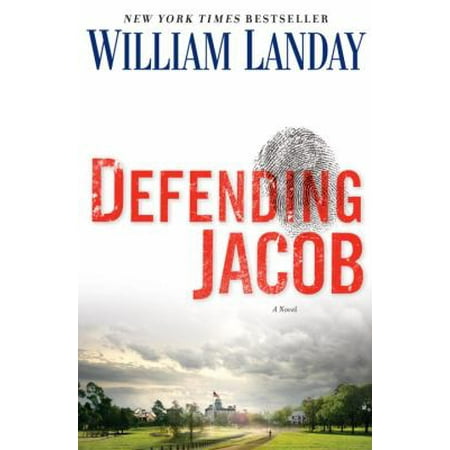 NAMED ONE OF THE BEST BOOKS OF THE YEAR BY
"Entertainment Weekly - The Boston Globe - Kansas City Star"
"A legal thriller that's comparable to classics such as Scott Turow's "Presumed Innocent" . . . Tragic and shocking, " Defending Jacob" is sure to generate buzz."--Associated Press
"NEW YORK TIMES "BESTSELLER
Andy Barber has been an assistant district attorney in his suburban Massachusetts county for more than twenty years. He is respected in his community, tenacious in the courtroom, and happy at home with his wife, Laurie, and son, Jacob. But when a shocking crime shatters their New England town, Andy is blindsided by what happens next: His fourteen-year-old son is charged with the murder of a fellow student.
Every parental instinct Andy has rallies to protect his boy. Jacob insists that he is innocent, and Andy believes him. Andy must. He's his father. But as damning facts and shocking revelations surface, as a marriage threatens to crumble and the trial intensifies, as the crisis reveals how little a father knows about his son, Andy will face a trial of his own--between loyalty and justice, between truth and allegation, between a past he's tried to bury and a future he cannot conceive.
Award-winning author William Landay has written the consummate novel of an embattled family in crisis--a suspenseful, character-driven mystery that is also a spellbinding tale of guilt, betrayal, and the terrifying speed at which our lives can spin out of control.
Praise for "Defending Jacob"
" "
"Ingenious . . . Nothing is predictable. All bets are off."--"The New York Times"
"Stunning . . . a novel that comes to you out of the blue and manages to keep you reading feverishly until the whole thing is completed."--The Huffington Post
"Gripping, emotional murder saga . . . The shocking ending will have readers pulling up their bedcovers to ward off the haunting chill."--"People"
"The hype is justified. . . . Exceptionally serious, suspenseful, engrossing."--"The Washington Post"
"Even with unexpected twists and turns, the two narratives interlock like the teeth of a zipper, building to a tough and unflinching finale. This novel has major motion picture written all over it."--"The Boston Globe"
"Yes, this book came out in January. No, we are not done talking about it."--"Entertainment Weekly"