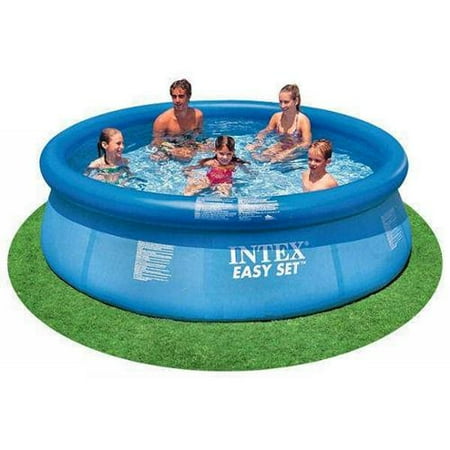 Enjoy hours of refreshingly fun family activity with super easy set-up (no tools needed). Just fill the upper ring with air and fill it with water. This Intex Easy Set Pool is ready for water in 15 minutes
- Easy Set above ground pools are great for adults and kids
- Easy Set above ground pools drain conveniently-- the drain plug accepts a garden hose to drain water away from the pool area as desired
- Easy Set above ground pools are much easier to disassemble than any rigid steel-walled pool
Please Note: Proper installation of any above ground pool requires an area, sufficiently larger than the desired pool, to be leveled flat. Uneven ground, hills or holes must be leveled before pool assembly begins. If severely uneven ground prohibits level ground, proper installation will not be possible.
Please Note: Filtration system and accessories all sold separately. Intex 10' x 30" Easy Set Pool
- Super easy set-up! Ready for water in 15 minutes!
- Water capacity: 1,018 gallons (3,854 L) at 80% full
- No tools are needed to set up an Easy Set™ Pool
- Stronger construction - Easy Set Pools have SUPER-TOUGH™ 30 gauge sidewalls that are made with 3 separate layers of material for extra strength & durability: 2 outer layers of heavy-gauge PVC are laminated to an inner layer of polyester mesh for extra reinforcement!
- More durability - Made with SUPER-TOUGH™ Plastic, a high density molecular PVC plastic that is unaffected by gasoline, oil and salt water. SUPER-TOUGH™ Plastic is also highly resistant to damage from abrasion, impact and sunlight. This hybrid plastic allows more air pressure for rigidity thus the pool wall is very stable.
- No sand required - all an Easy Set above ground pool needs is level ground. Do not try this with a steel-sided above ground pool! You will need up to 2000 lbs of sand to secure the pool walls! Easy Set™ Pools do not need sand to support their walls!
- Easy Set above ground pools are great for adults and kids. PLEASE NOTE: Children should always be supervised by a competent adult when using or in proximity to any pool.
- Easy Set above ground pools drain conveniently! The drain plug accepts a garden hose to drain water away from the pool area as desired.
- Easy Set above ground pools are much easier to disassemble than any rigid steel-walled pool. Storing your Easy Set pool during the off-season is a breeze and will extend your above ground pool's life indefinitely.
- Easy Set above ground pools are affordably priced to keep you cool all Summer long!
- Weight: 18.9 lbs (8.6kg)
- Dimensions:10 ft diameter x 2.5 ft height
- Part #: 28120EH
- Warranty: 30 Day Warranty Against Manufacturer Defects